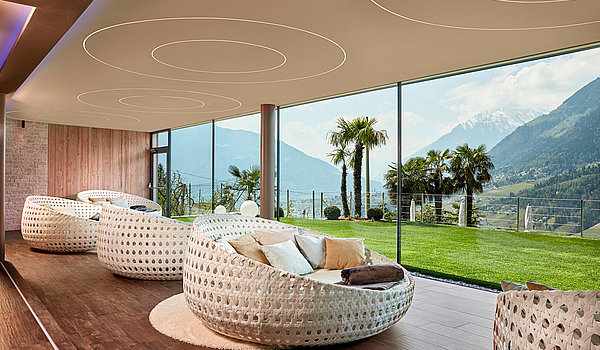 Our day spa
Stock up on solar energy during a mini-break at the wellness hotel Das Sonnenparadies.
The Sonnenparadies is synonymous with holistic well-being.
With genuine regeneration. As a guest of our day spa, you get to enjoy a place of peace and regeneration. A hotspot of strength. A breathing space. Our SonnenSpa ist not just a wellness world. It is a one-of-a-kind world on more than 2,000 m² of well-being.
We took the energy of the sun into our spa.
Our day spa offer at a glance
We are delighted to welcome you to Hotel Das Sonnenparadies.
Your day of regeneration:
Wellness on more than 2,000 m², from 11 am until 7 pm at the SonnenSpa
Use of the entire SonnenSpa - sauna area (from 1:00 pm), 25 m Infinity-Pool (30° C) and whirlpool
Spa bag with towels and bathrobe (Our environment is close to our hearts. By bringing your own bathing slippers, you contribute to waste reduction.)
Price:
Energy-boosting breakfast:
From 7.30 am to 10.30 am
With regional produce and homemade delicacies
Price:
Afternoon snack:
Light delights and a small selection of freshly prepared salads
Sweet creations from the buffet
Price:
Dinner:
5-course gourmet dinner menu, from South Tyrol and the world
Price: