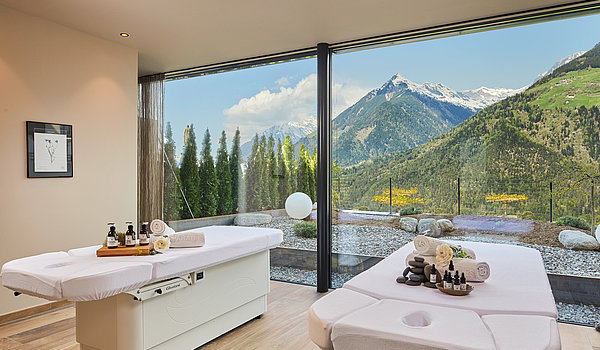 Our treatments
Exclusive pampering. True luxury.
Get more out of your wellness holiday with our spa treatments.
With products by TEAM DR JOSEPH and under guidance of skilful experts, you will find pure relaxation.
Take a break for what you need.
According to your wishes, we are happy to create the perfect wellness programme for you.
Clear sunny views – intensive facial cleansing treatment
Touching harmony – deep penetrating beauty care
Radiant experience – intensive treatment with biodynamic lifting
Natural power package – express power lifting for men
Manicured hands – spa manicure
Well-groomed feet – spa pedicure
Massages - our traditional classics
Natural balance – classic massage
Sporting ritual – sports-specific massage
A clear mind – head, neck and shoulder massage
Elevating experience – innovative back concept
Refreshing break – invigorating foot and leg massage
Massages - our holistic specialists
Sensitive time-out aroma massage
Natural stone power – basalt stone massage
Vitalising herbal power – herbal stamp massage
Full-body scrub with apricot seeds and hay extracts
Sports & vitality body wrap
Detoxifying Alpine Fango Body Wrap
Skin Repair Anti Aging Body Wrap
Your time-out at Hotel Das Sonnenparadies
Here you will find everything you need to know to your treatments on holiday in Hotel Das Sonnenparadies
We are happy to take your booking in person, either at the reception of the hotel or the SonnenSpa. You may also tell us your preferred appointment slot in advance, either by telephone or e-mail.
Please inform us of any special requirements or medical indications. We are happy to advise you on your choice of treatments.
Treatment slots as well as individual appointments with our sports instructors are available daily from 9am until 7pm as well as by arrangement and subject to availability.
Please come to the SonnenSpa reception approximately 10 minutes before the start of your treatment. This gives us the opportunity to prepare for your treatment in the best possible manner and to give you the time-out you deserve. If you are running late, we kindly ask you to understand that we will have to shorten your treatment out of consideration for the guests who have booked a slot after you.
You are welcome to come to your appointment wearing your bathrobe, unless indicated otherwise. We will protected your privacy throughout your treatment.
Appointments may be cancelled free of charge up to 24 hours before. Kindly note that we have to invoice the full amount in case of cancellations made at a later point.